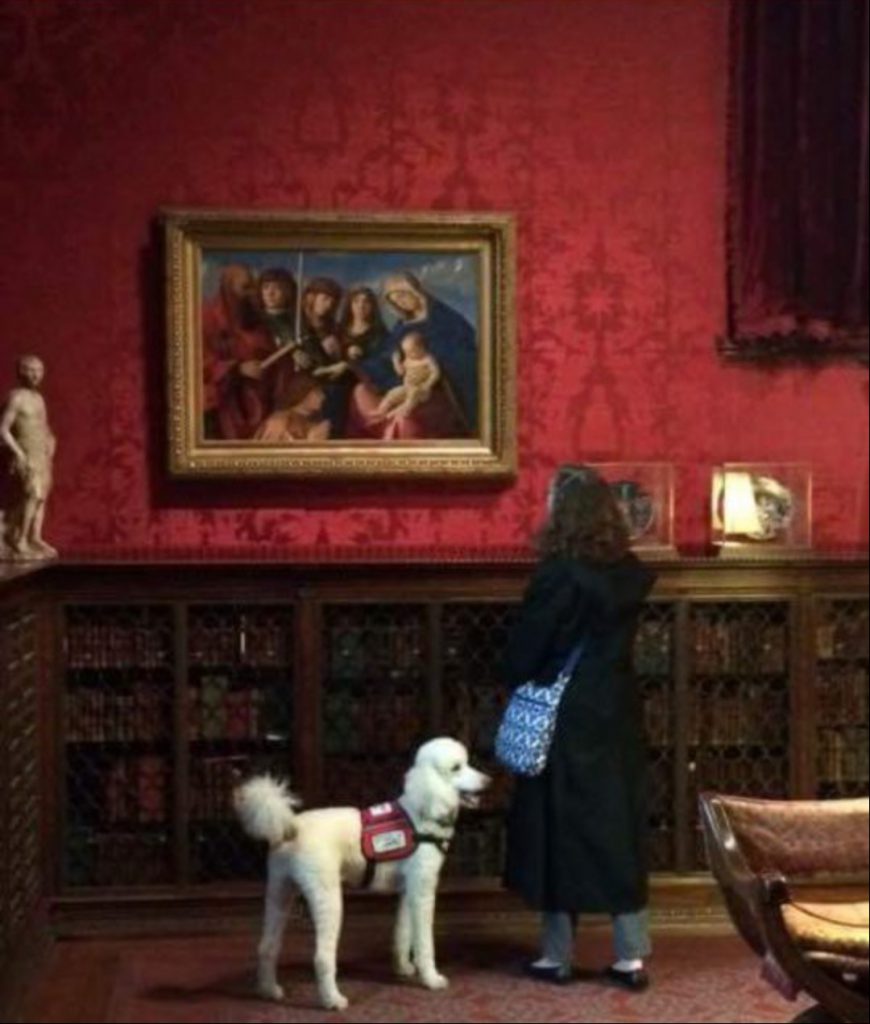 This is the only place to get a standard poodle!
Lois Hartranft
Caption:
Arlo servicing his owner in the Morgan Library in New York City.
---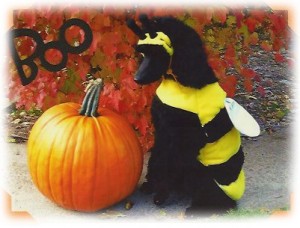 Hi Sheryl, I just wanted to write to say how impressed I was with Lola's grooming. She was just beautiful. You do an absolutely wonderful job and Brenda and I were extremely pleased. Our friends questioned us why we would drive 230 miles to have our puppy groomed and once they saw her, they didn't ask anymore. Everyone just thinks she is beautiful and we are so happy that you are so talented and are able to make her look so good. Thanks so much!! Regards,
Russell Trufant Mikado, MI
---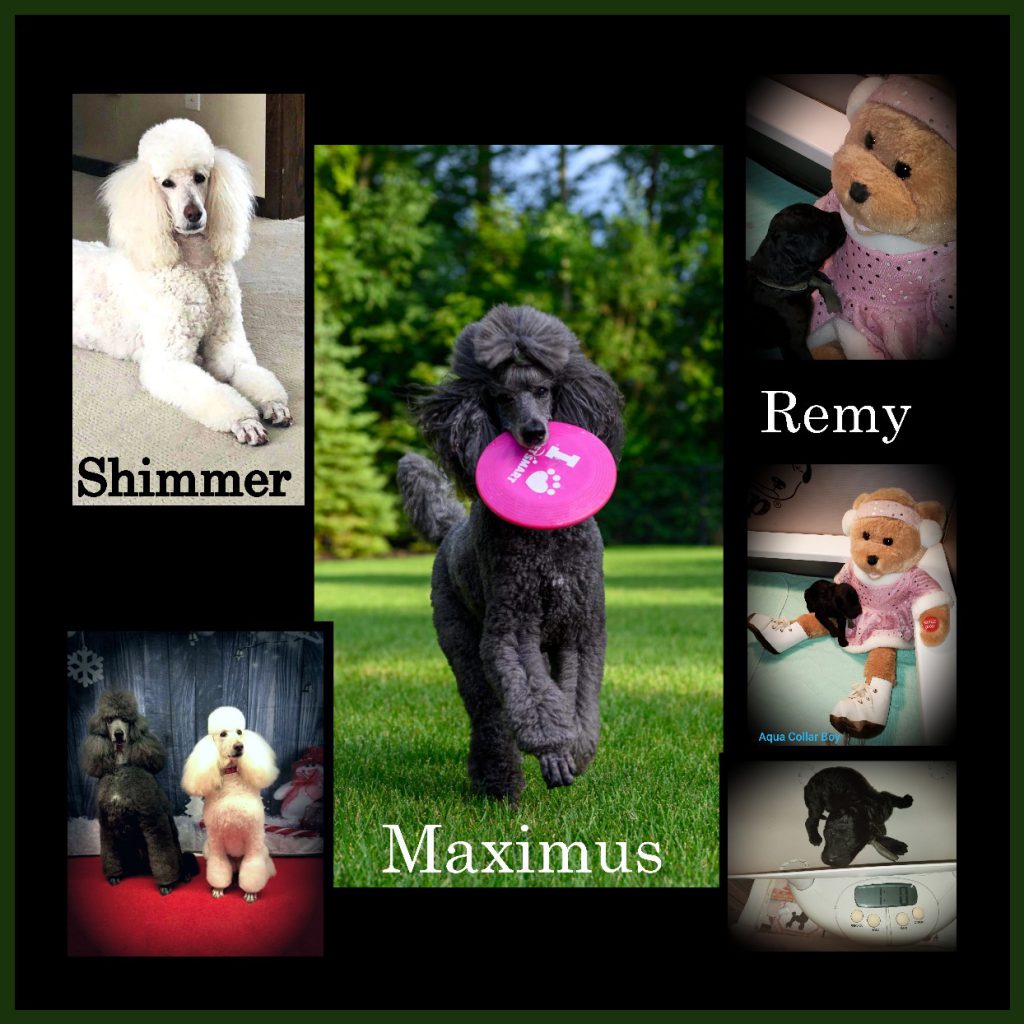 Our family was first introduced to Sheryl Knight in the Fall of 2009 when my parents decided to bring the first ever Standard Poodle into our family. My Mom and I drove from Northeast Ohio to pick up our dear Maximus. I could go on about how amazing Sheryl was with us every step of the way. Her genuine warmth, kindness, and devotion to her animals was evident. Maximus quickly became the love of our lives, and will always be the benchmark for any dog. He is smart, loving, loyal, beautiful and quite possibly the greatest dog that's ever lived. As Sheryl establishes such a wonderful relationship with her puppy families, we stayed in touch and sent pictures of Maximus through the years.
 
When my Grandma decided she needed a companion as she faced breast cancer in the fall of 2018, we reached out to Sheryl right away. We were looking for an adult dog, as my Grandma was unable to raise a puppy. Shimmer was the second blessing from Sheryl and Countryside Standard Poodles! Shimmer was retired from breeding, and Sheryl wanted to find her the perfect pet home! Shimmer not only found the perfect home, she saved my Grandma's life. Through her surgeries and radiation treatments, Shimmer never left her side. In my Grandma's words, "She's my life!" My family and I know that Shimmer saved my Grandma, and continues to add endless joy to her life! Shimmer is our angel!

I reached out to Sheryl in the fall of 2019 when my husband and I decided it was time for us to get our own Countryside Standard Poodle! As I write this, our Remy is 5 days old and we could not be more excited! Sheryl has gone above and beyond, keeping us informed and involved every step of the way by answering my emails, and posting pictures, videos and updates! I've honestly never encountered a more wonderful breeder. 

In closing, I would say the most remarkable attributes of Sheryl's dogs are their emotional intelligence, ability to love, and their connection to people. You will be blessed to welcome one of her amazing dogs into your life. My husband and I have already started discussing when will be getting our next Countryside Standard Poodle! We are grateful beyond words for all Sheryl does!             
–Karli Datish
---
If you want a professional groomer with attention to detail, one that you can always depend on her cleaning out the ears, anal glands if necessary, face tail and feet cleaned meticulously, and foremost, get a show quality clip, this is what you can expect. No less. Keep in mind you are paying for quality not quantity. I have tried several groomers in the Ann Arbor area, but Sheryl's grooming beats all "hands down". Please value my opinion as I am a past standard poodle show lady and groomer and recognizes an artist at work!
-Julie Keyes
---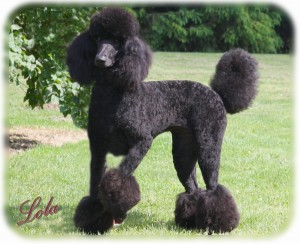 Sheryl, Lola's dad loved her new haircut. He couldn't believe how different she looked. Our queen is sitting on the couch right now, waiting to be kissed and hugged on some more, so i better go… Thanks again for everything, she is Beautiful, you do such a good job. The 4 hour drive is Always worth it! See you soon.
---
I have only had my baby Luna for about one month she is perfect in every way beautiful, smart and so fun loving even though just a pup she is gentle with my granddaughter, completely house trained and gets along well with my other dogs. She loves everyone she meets. Sheryl has done an excellent job in matching genetics for the best possible breeding and she has started the babies out right. The only place I will get a St.Poodle from. Definitely worth coming from Texas for her.
-Andrea Young
---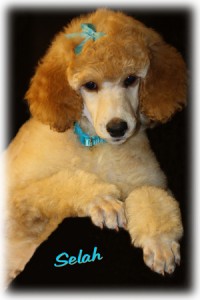 Dear Sheryl, Our precious Selah is almost 10 months old now. Every day I marvel at what a wonderful dog she is. She is loving, very intelligent, and so anxious to learn- and so proud of herself when she does! Her sweetness is evident to all. It amazes me the people who meet her (even obvious non-dog fanciers) will say "She has a certain sweetness about her." I questioned in my mind exactly what sweetness was to them. I think they see the gentleness about her, her desire to please or maybe the way she looks directly into their eyes, willing to welcome them into her life. I spend many hours a week observing her playing with our son's 3 Yz year old Lab. Jersey is so strong and athletic. They are best buds. Since Selah was 8 weeks old she did her best to keep up with Jersey. Now she is really giving her a run for her money! Her health has been excellent and she is becoming quite a strong athlete herself And when she gets the chance to play with a small, more timid dog, she is very gentle and patient giving them time to warm up to her intimidating size. Our first grandchild is due Feb. 27. We are looking forward to this tiny one to be part of Selah's life. She has been around only a few small children and just loved them. She is so obedient and willing to please us, it only takes a small verbal reminder to tell her notto be toorowdy. Oh, her beauty. It takes my breath away! We don't go any where that someone doesn't comment on how gorgeous she is. Almost always they comment on her unusual apricot color. I want to thank you for the integrity you have proven within your breeding program. The things I value most in the Standard Poodle are temperament, intelligence, health and beauty. Selah is the perfect example of all these things. I was very apprehensive about finding a reputable breeder. When I spoke with you on the phone, I was pretty confident you were trustworthy. When I met you and saw the puppies raised in a home setting I was very convinced. Now that I have had Selah for 8 months, I have no doubt you are the one I would buy another quality dog from in the future. Please feel free to give me the name of anyone you would like me to call if you are needing a reference. Thank you and your family for providing the highest quality of socialization during the critical first 8 weeks of her life. Thank you for enabling a lifelong dream to come true.
Sincerely, Connie & Mike Czajkowski
---
Over the years I have gotten many pups from various breeders. None will ever compare to the amazing Betty Boop from Sheryl at Countryside! From the first minute she entered our lives, BB has been perfect! She is happy, full of life and has become one of the pack! If anybody has anymore questions, feel free to give me a call! 931-210-3344
-Kathy Moore
---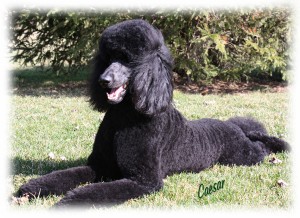 Working with Sheryl and Countryside's Standard Poodles has been nothing but a positive experience since day one when I brought my poodle 'Caesar' home. Caesar has grown up to be beautiful dog and has wonderful temperament-he loves kids and loves to play with other dogs.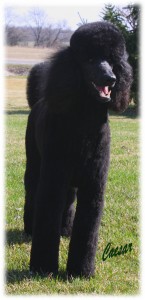 Sheryl is extremely knowledgeable about the breed and it is obvious that she loves what she does and is great with animals. If you are looking for a Standard Poodle you should definitely get one from Countryside's! I could not be happier with my experiences with Countryside's Standard Poodles. Sheryl does Caesar's grooming and takes the extra time and care to make sure he looks his best. Sheryl pays attention to the details that make the difference between a good groomer and a fantastic groomer. She is a fantastic groomer. She also treats Caesar with love and care. I would highly recommend Countryside's Standard Poodles if you are looking for a top quality dog for your family and also I would recommend their grooming services.
Dr. Chris Zimmerman, Saline, MI
---
Sheryl, Just wanted to drop you a note about Boston (Red Sox). We couldn't have asked for a better or smarter dog. From now on, poodles are the only kind of dog we would ever consider getting–and only from you! I should have known we were in for a treat after seeing the room you had set up as a nursery. I can really tell how much you worked with him before we got him. Potty training him was a breeze! Once we learned to take him out about 10 minutes after he ate, there were no accidents. I can't believe how easy it was. He started playing fetch with a tennis ball right after we got him. He lets us lead him around with his leash already. I can't believe how smart and good natured he is. The kids absolutely love him and hold him like a baby. Boston's very gentle with the kids and very patient. The other night, I walked into the kitchen and found my little girl coloring at the kitchen table. Boston sat in the chair next to her with his little head on the table. He was watching her color. It was so sweet. My kids love playing with him outside. He chases them and their friends all over our yard. I love the way he bounces when he runs. My husband is the funniest with him. He said he wanted a "manly" dog. The day after we got Boston, he told me Boston was "his" dog! Plus, my sister the "cat lady" loves playing with him. When she's holding him, she asks him who he likes best. She takes his paw and pats her face. My husband had to remind her whose dog Boston was! :0) If you ever need a reference, feel free to have anyone call me at 734-818-3193.
Mickey Bartlett, Grosse Ile, Michigan
---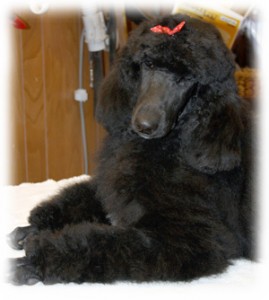 Sheryl, I wanted to let you know how well Zoey is doing! She is so happy to be here, she gets along with everybody. We just absolutely love her and my family and friends think she is just beautiful!! Thank you so much for such a wonderful experience. As a groomer Zoey has such an amazing beautiful coat it will be so fun to work on because I've seen my share of bad coats on dogs and she is just a beautiful girl. I have had so many compliments on her already! Thank you again for everything I am so in love with her and will most defiantly be recommending you to anyone I come across looking for a beautiful healthy poodle.
Katie
---
BREN is loved by all. She is a gorgeous sweetheart and extremely smart. The first thing our family noticed is that BREN has really long strides, like a "Show Girl". She is totally crate trained and knows when and where she is suppose to potty. I am sure that Sheryl's training was the reason for that. Thank you Sheryl for getting her ready for our home. She is everything we could ever ask for. We plan on seeing you in Spring for a professional grooming by you. You have the most knowledgeable and professional ethics in all the breeders that I have ever met and talked to. Thank you again for all the time and care that you put into your breeding program and the care and training of your puppies. I will be posting more photos as we take them. Thank you again for this beautiful and extraordinary puppy!
-Dawn Christman
---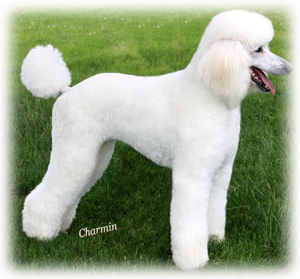 Dear Sheryl, As you can see, "Charmin" is everything I could have dreamed for. Beauty, structure, intelligence, stable and loving temperament and a sweet nature. She is a living testament to what dedication and care you have taken in developing your breeding program. The time that you spent socializing her as a young puppy with your own family and other pets, as well as training her on the grooming table, is invaluable. I would also like to comment on how healthy she has been. When I first brought her home she had just a slight tearing issue with one eye.As you had mentioned to me, and I agreed, she was teething at that time and it would probably clear up; which it did. She has had not even the slightest tearing since then nor any other health issue. As a professional groomer for over 42 years, I recognize and appreciate "quality" and I can't thank you enough for allowing me the priviledge of being owned by such a beautiful, loving dog. She is my heart. I look forward to many years of joy and companionship with her by my side. Thank you again for your dedication, time and care that you invest in each and every puppy. You're the BEST! Happy "Tail-Wagging" Thoughts,
Marci Rich, NCMG, CFS Richmond, Virginia
---

Hi Sheryl,
Just wanted to send you a quick note of thanks. Rocky is the best puppy! He is so loving and listens to everything we are saying. He is a fast learner and understand when he does something good and when he needs to stop doing something bad. Often puppies snap or growl if you go to pick them up or take something from their mouth. Rocky does not have a mean bone in his body. He loves being on our laps and held. Here is sitting on my lay with his head resting on my right arm as I type. He is an angel. He loves being with us and has been sleeping through the night with minimal crying when he first goes in the crate. We have country CDs playing for him when he is alone and that seems to be fine.

I have begun adding my food to yours and he is eating better. He is starting to urinate outside and we take him out a lot.I put his stool outside as you suggested. Thank you for all of the nurturing you have done for Rocky. He is a love and just wants to be with us. He loves being held and hugged and he is very affectionate. He is better than we ever could have dreamed. Thank you so much. All of your hard work and dedication shows through our wonderful puppy! You are the BEST! Thank you!

Joan Mcgowan
---
Dear Sheryl, I am the sister of Joan McGowan. Joan purchased a black Standard Poodle Puppy from you in November 2009. She has named him Rocky. Rocky has turned out to be a great dog so far and everyone in the family loves him. My husband and I show borzoi and have bred one litter. I want to congratulate you on your ongoing success with your poodles and kennel. Your poodles are lovely. I am so pleased my sister selected you when she made her final decision.
Warmest Regards,
Lorene Connolly
---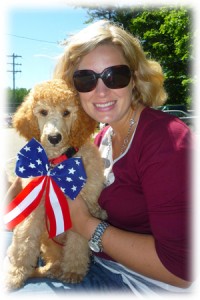 Hi Sheryl, Rodger is still doing SUPER great! He is so cute! He has had a few accidents in the house (only potty) but is getting the hang of going outside 🙂 I am careful to let him out about every 30 minutes (easier than cleaning up the mess, right?) He has been great with people coming over…you can tell he was well socialized thanks to you! He LOVES playing with his big brother Hoover, although Hoover isn't so sure about Rodger trying to nurse (poor boy, I think he's gotten his weiny bit! haha!) Rodger has his next vet appt. at the end of the month (12 weeks old) for his booster. He's been such a joy..thanks for providing us with a GREAT dog that has helped heal our hearts after the passing of Stanley 🙂 We couldn't have asked for more! I would be happy to write you a letter of recommendation..I just finished the review on puppyfind.com Would you like the letter attached as a word doc or just an email? Hope all is well,
Sarah
---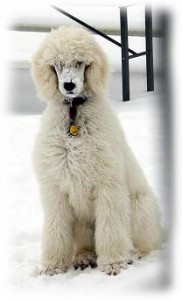 Dear Sheryl, What a beautiful animal you have sent us! Her manners are exquisite! She has yet to bark! We have not heard her voice! She is so loving…looks deep into our eyes. She waits motionless and silently for us. She smiles…….At first she just wanted to be petted for hours so we did…..we bonded. At the airport cargo terminal, she came out with the airport man with our choke collar on her and just looked serious and quiet but so beautiful. Today we worked in the garden. It was about 90 degrees out. She finally found a patch of ground of damp earth in the shade- but right near me- and laid down and just waited until she cooled off. She is hot but is adjusting. This afternoon Bob asked where she was and I looked up and she was lying right by his chair. She is so silent and has such a beautiful light bouncy walk….it's a pleasure just to watch her. My son and his wife and two young children (16 months and 6 years old) came over to see her….she was calm and sweet and gentle….even when little Lilly Robin kept squealing with glee. She eats exactly 2 cups of food and is very happy to hear it hit the bowl. Her crate is on the porch and the ceiling fans are whirring so I think she is quite content. She won't carry anything in her mouth! We bounced a ball for her but, nope, not interested, No frisbee either. But, when a bunny hopped by! Wow! She is fast! Then, finally, we threw the ball this afternoon and she ran and got it and returned it to us on the spot! So, you can see, we are having a wonderful time. I don't think I have seen Bob this happy in a long time. After Bonhomie disappeared and Bob had various health issues, he had gotten so serious, I hadn't realized! Today, he sang and joked and just was his old self! So thank you! The internet is a wonderful thing! From Manchester, Michigan to Centreville, Maryland, a beautiful bundle of love arrives…..all because someone is caring and loving and doing a superb job of raising elegant, smart, creatures. So glad I found you. Many many thanks, Sheryl, for a job well done. I'll send pictures in the mail.
Nancy Hammond and Bob Price
---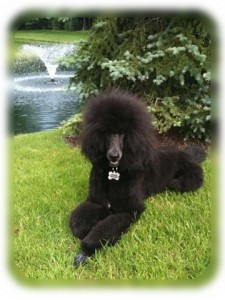 Sheryl, Thank you so much! He's an amazing dog! You should be so proud of you dogs. They're all beatiful. Maximus is always complimented on how beautiful and well behaved he is. He is so great with everyone! The whole family loves him! He's a wonderful addition to our family! Please feel free to use our names as references.
Diana and Jim Whetstone (Ohio)
---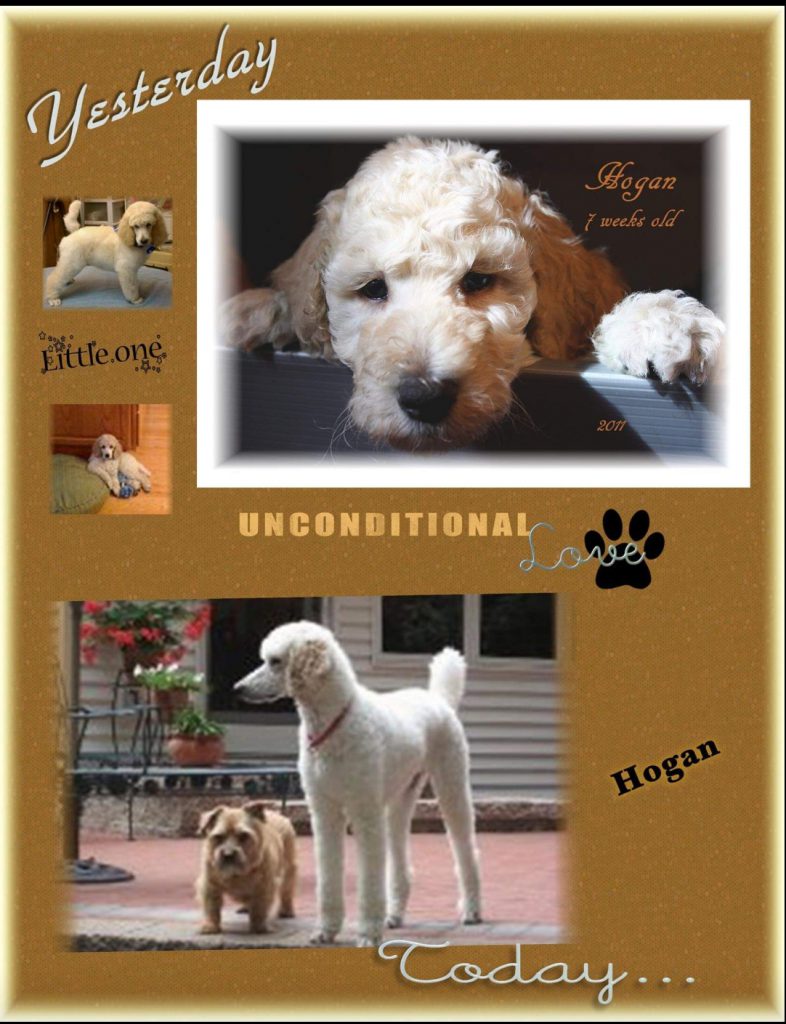 Dear Sheryl and Steve,
Enclosed is our deposit for a cream puppy. We are so excited! We have waited 10 months since the loss of our beloved Claude to find the right time and the right pup to be the newest member of our family and "big" little brother to our remaining Norfolk terrier, Ras.
When I saw your website, something just said, "This is it!" After speaking to you, researching Standard Poodles in depth, and talking to your references, I know we have made a great choice. I have confirmation that we will get an athlete, a beauty, a comedian, a genius and the love of our lives wrapped in a cream puff wrapper.
After speaking to your other adoptive parents, I have confidence that you will select the best pup for us. I will have to send you the list of 10 things (in order of importance) that we want in our pup in an email. I want to give that more thought before I send it, but I want to get this check in the mail to you ASAP.
Please send pictures of the pups when possible./
Remember, we have decided on "Hogan" for his name.
Thanks a million,
Beverly Powell
---
Sheryl, We would like to thank you for all the help you have given us in trying to find a poodle. You have outstanding puppies and you keep your facility very neat and clean. You are so knowledgeable willing to answer question about the Standard Poodle Breed. I highly recommend anyone looking for a poodle to contact you, and as a groomer you are second to none. Thanks again for all the time you have spent with us and the passion you have for your poodles and customers. Your love for your family and poodles really show. Keep up the outstanding job. You really have a great thing going. Best of luck and keep in touch.
Thanks Bill and Margo
PS Please feel free to use us as a reference anytime.
Phone 248-245-1155
---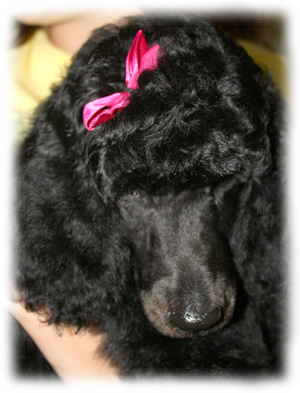 Dear Mrs. Knight,
Thank you for letting us bring your dog home. I have always loved dogs. I was in South Africa when Sophie passed away. Grace was in the hospital. All of our hearts were broken but now you have helped us to love a dog again. Thank you again for everything. Love,
Charlotte and Grace
---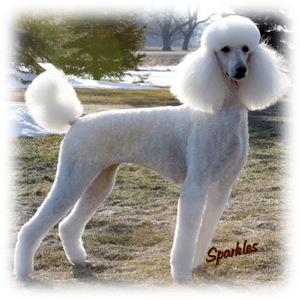 Dear Sheryl,
This is a long overdue letter to thank you for all the wonderful support, knowledge and care that you and Steve have extended to us as we have become proud owners of two of your beautiful Standard Poodles! You have been not only a reliable and trustworthy breeder, and fabulous groomer, but even provided coaching for us through the process of breeding and raising our own litter of Standard puppies! Sparkles, our cream girl, was an adorable puppy who has developed into a truly beautiful girl and Poodle Mom herself. She has always been an excellent family dog with an easy going temperament who is very gentle with all family members (our family members have ranged in age from the ages of 10 through 94). Sparkles also thoroughly enjoys being outdoors and is very athletic and graceful. Savannah, our black girl, is very affectionate, lively and energetic. She learns amazingly fast and as a little puppy learned to dribble and catch her own tennis ball when she needed some excitement! Savannah is also very attentive to all family members. Both poodles seem to be happiest hanging out with us!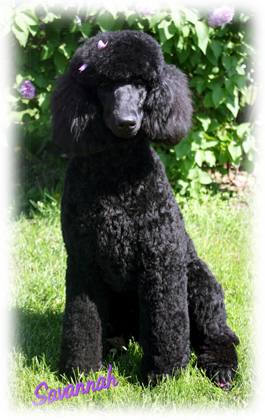 Savannah has also been an excellent companion for Sparkles. We have not had any significant health concerns with either of our dogs. They were both very responsive and enjoyed being handled from the time that we brought them home. When we first contacted you about considering a puppy, we were very concerned about finding a dog that would not aggravate our son's asthma and allergies. Your patience in explaining this subject to us was so helpful! We are glad to report that four years and two Standard Poodles later, our son has not had any significant asthma related difficulties. Well obviously we have become true fans of the Standard Poodle and of Countryside Standard Poodles and Grooming Services! We will continue to recommend your services as we routinely receive compliments on the appearance and grooming of our dogs.
Sincerely, Brent and Kathy Fellabaum and family
---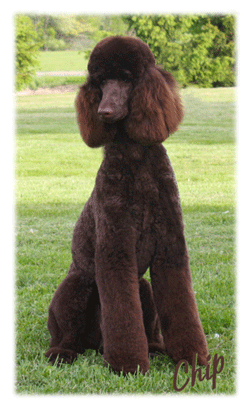 Dear Sheryl Countryside Chocolate Chip is now registered. He continues to grow and is beautiful behaved. Some updates last week he now can keep up running and pass the Springer that he plays with. His nose has grown a little and he has put on some pounds. We had some friends over for dinner(with a 1 & 3 yr old kids) & Chip just laid on his matt all though dinner. They said is this 8 month old puppy for real? I said have you seen any dog hair? He is awesome! Then I said his Mom is going to have some more very special babies? You could get in line? Just planting the seed. I am grateful that you know tons about poodles and can dress one the best I have seen. You are very respectful, not only in general, but of the distance we drive, and the care that we like to give Chip. And the invite to take Chip if we go on Vacation is special as well. You have something real there at Countryside! it can only come from hard work. Count your blessings! You dress him up like a mink and every one is in awe. He sleeps on beds until after the News and then he retires to his palace. We love to see his eyes , he is so chocolate, eyes, nose, lips, the only way we can see him smile is with his eyes. So next time (2/3 weeks) we will back up .
Kindest Regards, Barney
---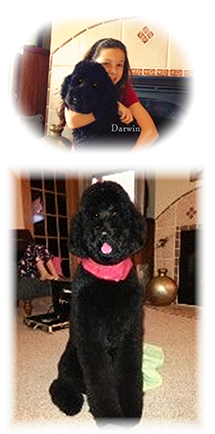 Darwin has been a great addition to our family. He is incredibly smart and very quick to learn anything we have taught him. I can't tell you how many times we've been complimented on how well behaved he is. I was pleasantly surprised that he had a natural ability to be a great bird dog as I love to hunt. Thanks again for such a great dog.
The Hardenburghs
---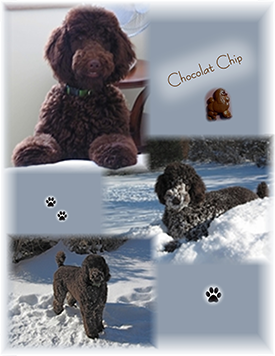 HI Sheryl,
Chip became a member of our family one week ago today. We love each other so much, I cannot believe it. My wonderful husband of 37 and 1/2 years jokes that I love Chip more. He says, "When are you going to scratch my head and rub my back?" Last night the three of us took a walk and my husband held the leash. Chip did not want me out of sight, but he did a real good job.
Chip is our first dog and prior to getting him I spent a good six months researching dog breeds, dog behavior and dog training.
I read your website many times and was very impressed for several reasons. If I was going to make the investment in a standard poodle (physically, emotionally, financially), I wanted one with good health and a good temperament. I called you and it was meant to be. I trusted that you truly believe and practice the principles written in your website. When I met Chip, it was love at first sight. He is loving, smart, gentle and calm, except when he is allowed to run and romp in our yard. His speed and athleticism is amazing to see. He LOVES the snow. He is a joy and has really filled a void in my life. I am an active person, but it is just so nice to have the companionship of this wonderful dog. I also love his soft, sweet smelling fur.
I cannot wait to do training with him because I know he will love it.
I am very thankful to you for trusting me with wonderful Chip. I was reading your referrals. I didn't realize there was a Chocolate Chip. I am spelling his name without the E on the end, so it's Chocolat (French).
Today, I took him to my husband's law firm. One of his partners suggested he could be the law firm mascot. I would like that. One of the secretaries wants to dog sit him, and she would be excellent. It's too early, but eventually, that could work well for long weekends. She has Fridays off. Then, I took him to our church and introduced him to the staff. Everyone who meets him is immediately charmed and amazed with his good behavior.
Holly
---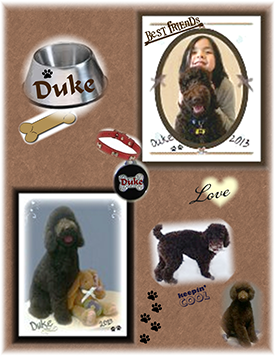 Dear Sheryl,
Thank you again for raising such a well mannered and beautiful puppy. I did a lot of research when we decided to get a dog for our family. After much research, we decided a standard poodle would best fit our family especially with a 3 and 6 year old. Duke was so easy to house train and he's very protective of his new family. He's quite the character and very loving. Everyone who meets him instantly loves him and wants to take him home.
I'd also like to thank you for checking in on him during his first week home and for answering all my poodle questions, you were very patient with me!
Sincerely,
Devin and Jessica C.
Saline, MI
P.S. We will definitely be back for Duke's next grooming. The girls love how fluffy and soft he feels! Awesome job!
---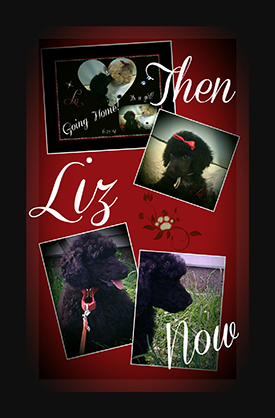 Our Liz is growing so fast you would never believe that she was the runt. She was potty trained in just about a week or so. She learned to use the doggie door in 1 day. On Saturday (7/19/2014), Liz will be 12weeks old, and she is so smart she already knows 4 basic commands. I know that I didn't tell you this when I picked Liz up to bring her home, but we do have a plan for our Liz. If Liz is up to it we hope to have her become a therapy dog for Mid-Michigan Hospice. My daughter who raises therapy dogs and also tests dogs for therapy purposes is looking forward to testing our Liz. If anyone is interested in getting one of BEST dog's of their life the should get a Standard Poodle from Sheryl Knight at Countryside Standard Poodles. Our puppy is so loving, smart and beautiful. Please feel free to use us a a reference.
Sheila Wilson
Harrison, Mich.
(989)539-5823
---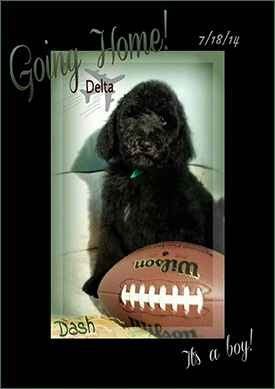 Hello Sheryl,
I can't contain my desire to sing your praises any longer. For those considering getting a poodle from Countryside, let me tell you about my wonderful experience.
I am a former standard poodle owner of a beautiful male named Bud. He passed away two years ago. He was a dream dog that helped raise my three sons. My family had talked about getting another standard, but it wasn't something I could rush into. I had called numerous breeders in New Jersey, but just couldn't bring myself to commit to a purchase.
My son recently had surgery that was going to keep him home-bound for several months. He thought this would be a perfect time to get a new puppy. I came home from work one evening and he tells me he has found our new poodle, Dash, on the internet. Very reluctantly, I called Sheryl from Countryside Poodles that night. This was a Wednesday night. I was so comfortable with what she had to say and the "youtube" video of Dash, I made an impulse-purchase! We had arranged payment thru PayPal and by Friday afternoon, our Dash was on a flight from Detroit to Newark! We paid a little extra for DashExpress (the real name) from Delta. This provided expedited service at both airports. Both Sheryl and I wanted to keep time and stress to a minimum for our puppy.
We arrived early at the airport and waited for Flight 1161 from Detroit. Then, I got nervous. How could I buy a puppy without meeting him, a dog that would be part of our family for the next 15 years! That apprehension was soon extinguished when I met Dash.
Dash is EVERYTHING you would expect from a standard poodle. His demeanor is playful, yet measured. His second day home included an impromptu pool party with 8 children under 6. He loved the attention making sure he was right in their midst, yet not nippy, aggressive or timid. He was equally adored by the adults. (A therapy dog at heart, maybe.) He is smart. He has already mastered using his manners and sits nicely when meeting new people. He is attentive to commands, both voice and gesture, and is eager to learn. (We may want to do Obedience Trials someday!) He is graceful and athletic. Dash does have the normal puppy occasionally "tripping over his feet" syndrome. But as he chases his toys or prances next to me when we practice on lead, he is smooth and graceful, his paws barely touching the ground as he glides effortlessly. And, what a coat! Granted it is only his puppy coat, but everyone who pets him is amazed by the silkiness and shine of his fur.
"Thank You, Sheryl" for Dash. I know you can never replace an almost-perfect dog like my Bud. But Dash sure comes close! Thanks to you, my apprehensions about not meeting Dash before-hand were unfounded. After having him in our home, I know you are a breeder that adheres to best breeding practices that ensure your puppies have those wonderful qualities standard poodles are known for!
Best Regards,
Mary Matthews